Who is Online
We have 1 guest online
Interntional Women's Day in VTC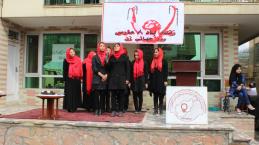 International Women's Day, March 8, is an occasion marked by women's groups around the world, when women come together and exercise their voice of solidarity, advocating peace, equality, and human rights. The celebration of International Women's Day is an important opportunity to increase awareness of gender equality and issues that are facing their local communities including how they could play a greater role in making changes in their own lives and contribute to the sustainable development of their society.
In Afghanistan the government celebrates International Women's Day and local institutions hold celebration as well.
OPAWC celebrated the Women's Day in the yard of the Vocational Training Center. The event was entirely arranged by students. Several poems, texts and drama were presented by the students.
Last Updated on Tuesday, 17 March 2015 14:49
Read more...
Global Uprising of One Billion Rising (OBR) on Violence against Women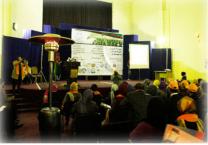 Global Uprising of One Billion Rising (OBR) on Violence against Women
14th February is the day where all civil societies and human rights institution raise their voices in solidarity with the victims of violence around the world.
Afghanistan joined this campaign formally in 2013. Therefore on 14 February, this event was celebrated in Afghanistan like in other countries.OPAWC, whose target groups are women,also participated widely to show its solidarity with women victims and raised its voice to eliminate all kind of violence and harassment against women throughout the country.This event was held and celebrated simultaneously in 34 provinces of Afghanistan by AWN (Afghan Women Network).
Last Updated on Saturday, 14 March 2015 14:06
Read more...
Beggar Women in Afghanistan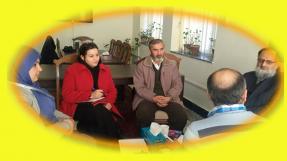 The BBC persian  service held a debate between the Deputy Ministries of Social Affairs, Women Affairs and an OPAWC representative in Kabul.
Latifa Ahmady, the representative of OPAWC, said in this debate that the number of beggar women in Afghanistan increases day by day. The representatives of the Deputy Ministries argued that most of the women beggars are professionals and that they developed the habit to beg; Latifa Ahmady rejected this and said that no women is interested in going for begging and self abuse in the streets, that we must find the true reasons for begging and we know that it's because of poverty, unemployment, insecurity, inequality corruption in the country, which has led the majority of women and children to beg.
Ahmady asked the Deputy of Women Affairs to have a serious look into the affairs of NGOs who misuse much of the funds under the pretext of supporting women, but the Deputy said that unfortunately this right has not been given to her ministry; she added that they even don't know most of the NGOs working for women and receiving big funds.
Last Updated on Tuesday, 17 February 2015 12:59
Read more...
Men's Engagement in Women's Empowerment and Rights Achievement in Afghanistan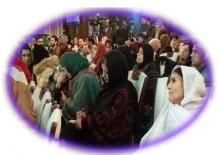 OPAWC participated in a conference "Men's Engagement in Women's Empowerment and Rights Achievement in Afghanistan" on January,28,2015.
The conference was arranged in a collaboration of Checchi & company Consulting,Inc. and the Afghan Women's Network.
Checchi released a report of a study that examined ways men can be involved in and contribute to women's rights work in Afghanistan.
The research was done in four provinces: Kabul, Bulkh, Herat, and Nangerhar. Some interviews were shown with men women who agreed with the sentence: Can men as father, brothers, husbands and colleagues be defenders of women's rights?
Last Updated on Tuesday, 03 February 2015 14:36
Read more...
Women's Conditions in Provinces and Districts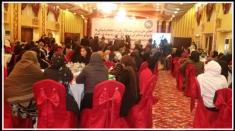 Psychological problems, self-immolation, no excess to health care, gynecological difficulties, illiteracy, drug addiction, unemployment, poverty and financial problems have worsened the conditions of women in remote provinces and districts such as Badakhshan, Nooristan, Farah, Bamyan and others.
Not long ago, the new president Mr. Ashraf Ghani Promised to give four posts in his cabinet to women and to provide more opportunities for women in all institutions of the government. Instead of following up on these promises and increasing the chances of women in government, the new government has reduced the posts for women and women's participation in provincial and district councils from 25% to 20%. This action of the government has put into question Mr. Ghani's promises and commitment towards women.
Last Updated on Sunday, 25 January 2015 17:38
Read more...
Dialogue on Issue of Literacy Teacher raining in Afghanistan
OPAWC members participated in a one day Dialogue on the issue of Literacy Teacher Training in Afghanistan. The dialogue was held by the Ministry of Education, Deputy Ministry for literacy, with the cooperation of ANAFEA and DVV International on November 19, 2014. It was attended by representatives of every institute working in the literacy sector, along with high ranking officials of the ministry.
Mr. Mohammad Azim Karbalai, the Deputy Minister of Education for Literacy, said in his speech: "In Afghanistan the system of learning is teacher centered rather than student centered; literacy teachers must pass an exam and must have a certificate in this field, the teachers must have the abilities and potential for this job, their expertise  must not remain the same for years."
The audience suggested increasing the  time for teacher training from two weeks to one month. In this period they will learn all aspects of being a literacy teacher.
Last Updated on Sunday, 25 January 2015 17:41
Read more...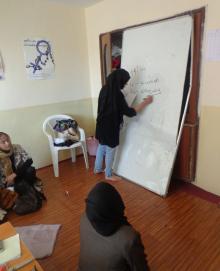 A two day workshop on HIV (human immunodeficiency virus) was held in the Vocational Training Center (VT C). The Workshop was presented by Nabila Mohammad Khalid, a 14 year old student of OPAWC center.
The workshop was held in both sections of the VT C. Nabila presented documents with information on HIV she had gathered: What is HIV, how it effects humans, what are the ways to prevent and treat this Virus. The information was very useful for the women and they participated with interest.
According to the United Nations, around 5000 people are thought to live with HIV in Afghanistan, but only 30 percent of them have been tested. Meanwhile official of the Health Ministry said that a lot of effort is needed to overcome the spread of HIV in Afghanistan, especially amongst mothers, throughout 2015.
Last Updated on Sunday, 25 January 2015 17:42
Read more...
Workshop on Monitoring and Evaluation of Literacy Program in Afghanistan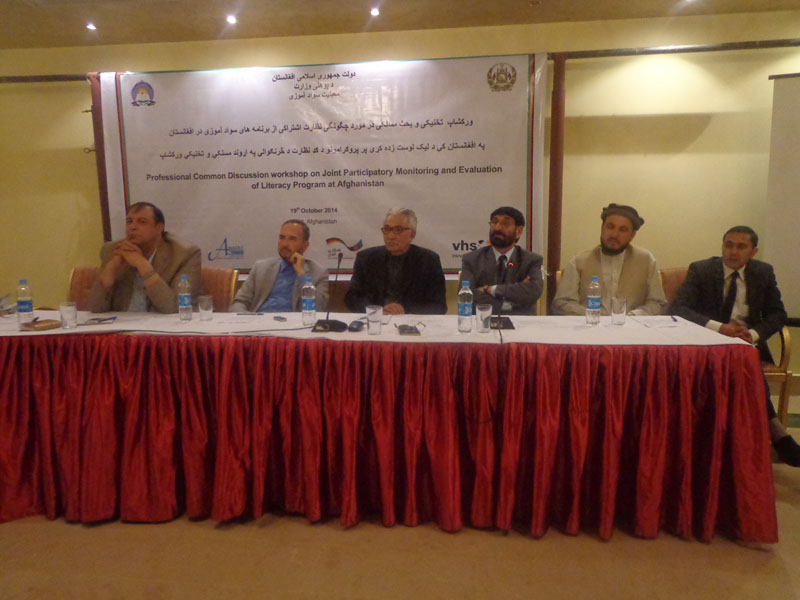 OPAWC representatives participated in a professional common discussion workshop on joint participatory monitoring and evaluation of the literacy program in Afghanistan. The workshop was held by the Ministry of Education, Deputy of Literacy, in the Continental Hotel in Kabul.
High ranking members of the Literacy Department and representatives from all provinces who work in the Literacy field participated in the workshop. The new method of monitoring and evaluation especially in the provinces and villages were discussed and new ideas were presented by participants.
Suggestions were presented by the audience to introduce specific schools to provide vital education for those who graduated from literacy programs,so that the women and girls can advance without any difficulties after finishing their literacy program.
Last Updated on Wednesday, 05 November 2014 10:32
Read more...
Conference on the Third Report of the United Nation Security Council Resolution1325
OPAWC participated in a Conference on the Third Report of the United Nation Security Council Resolution 1325. The  conference was arranged by Afghan Women's Network (AWN) in  Kabul city on 28 October2014.
In the conference AWN presented a research made with the collaboration of national and international institutions about the adaptation of United Nation Security Council Resolution 1325. The result of this research showed that the commitment made in regard to women, peace and security has not been fulfilled. The number of women in important political and socials fields is very limited Women do not have any role in making decisions in the peace process.
Last Updated on Wednesday, 05 November 2014 09:56
Teacher's Day was celebrated in both sections of the Vocational Training Center on 15th October2014.
Training Center and schools remain open on Teacher's Day and students celebrate with gifts, presentations and programs arranged for their teachers.
The plight of Afhanistan's teachers is untold. The country has the lowest salary for teachers in the world. Compared to other professions teachers are amongs the financially worst hit people of the society. A teacher's salary in Afghanistan is about 5000 Afghanis (100 USD). Apart from this fixed salary teachers are suffering in several ways, from lack of attention from the government to serious problems such as killing or kidnapping by opposition groups like the Taliban. For the last five months the Government failed to give salaries to majority teachers across the country.
On the other hand, such a serious issue has never been highlighted in the media; neither the concerned quarters northe Education Minister bothered to notice the issue.
The financial troubles aside, most teachers across the far-flung rural parts of the country are untrained and non-professional; most have not completed their school graduation.
Last Updated on Monday, 27 October 2014 12:04
Read more...
<<

Start

<

Prev

1

2 3 4 5 Next > End >>


Page 1 of 5