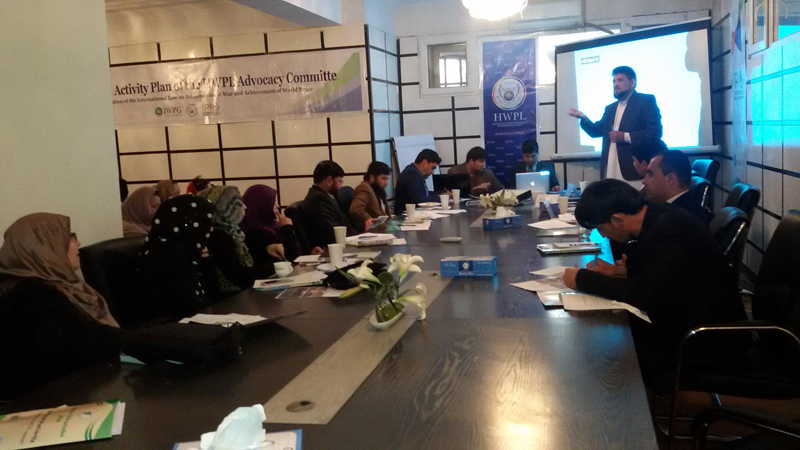 OPAWC participated in the inauguration ceremony of the HWPL Advocacy Committee and Peace Dialogue arranged by the International Women's Peace Group (IWPG) of South Korea, the International Peace Youth Group (IPYG) and Heavenly Culture, World Peace, Restoration of Light (HWPL) on 27 March 2016 in Kabul, Afghanistan.
The event started with a welcoming and introduction speech by members of HWPL, followed by video messages and introduction of HWPL by the member of IWPG. Speakers from all three institutions including OPAWC then presented their views on the issue of renouncing war and having peace in the world. Each speaker put forward their own views but the most important points, that were very much appreciated by all participants of the event as well as members of IWPG in South Korea who were watching the program live on Skype, were made by OPAWC. The main points raised by OPAWC representative Latifa Ahmady were:
"We cannot have peace and war at the same time. On one side war is supported, while on the other side the issue of peace is being discussed. The latest explosion in Brussels, Belgium, in the heart of Europe in few kilometers from the NATO center, is enough to understand how much the war and terrorism have expanded in the world. Now a dyes the countries that were and are involved in supporting the terrorism and war are attacked by their companions."
"The need for peace is most felt by those who are living in Afghanistan, Syria, Iraq etc who are victims on a daily basis and in any contests. We know that the current war has brought disasters for 99% of the world population and profit for any 1% So it is the duty of all peace loving nations of the world to work together and expound the bad effects of war and to put pressure on their governments to stop the selling and buying of weapons for war in peace loving countries, to stop supporting criminals and terrorism in the world, to stop all financial support for government fools in wars such as the war in Afghanistan. Those governments that really want to have peace and harmony in the world should support those institutions that are really working for humanity, equality and justice; they should criticize the warmongers and should put pressure on their government to stop interfering in the destiny of the world's nations."
Ahmady talked about several other issues as well. She mentioned the example of Korea and that it was the war and interference of other countries that split Korea into a two, and now a days the two parts stand against each other, while a united Korea could be a powerful and most developed country in our world.
The event ended with a video on International Law ON Abstaining from war and achieving peace. the signing of a joint document and group photos.