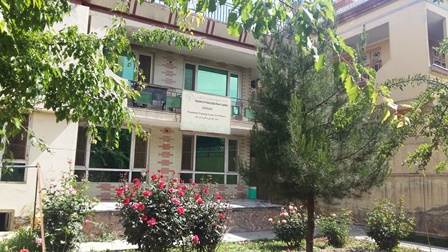 Nowruz, marks the Afghan New Year, each year on March 21st. It is also the time which marks the beginning of the academic year. Schools as well as other educational institutions open after long three months' winter break. In OPAWC, the vocational training center also has been started with the arrival of spring. This year is the beginning of new plans, hopes and dreams for all students of this center.
With the start of new academic year, students have left behind the distresses and problems of the long winter. Just like the flowers blooming, the students are also refreshed, wanting to learn new skills in the course of the year.  OPAWC's center employees are glad that their hard works is outputting positive results. Their students are learning a lot of skills. In the tailoring course, the women have reached to that level that they can provide their needs and they are self-sufficient now. Moreover, from the literacy courses, a numbers of women have been admitted in different grades at public schools and are continuing their studies.
Handicrafts, a sector which has been practiced in Afghanistan for centuries, has also been getting improved in the center. These products: beautiful bags of laptop, pretty mobile cases, wonderful table cloths, dresses and tops with variety of hand-made embroidery are the result of students' hard work in the center.
A few photos from the garden and classes of OPAWC: