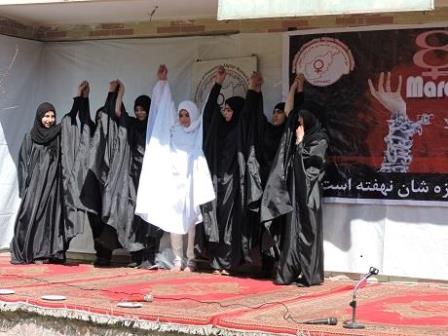 International Women's Day is the day of solidarity of women across the globe. On this day the organizations, parties and democratic and revolutionary individuals, especially those freedom loving women who struggle for their rights, vow once again to continue their tireless efforts for women's rights and equality.
OPAWC has been a pioneer in all issues related to women and has been active and participated in all social programs to raise its voice and to defend the women to every degree possible.
This year OPAWC celebrated International Women's Day in four provinces: Kabul, Heart, Farah and Nangarhar. Each province had its separate program with speeches, national songs and theater performance. The themes of all speeches were approximately the same, about the present worsening of conditions for women and the bad situation of the country in general.
The celebration in Hamoon Health Center in Farah Province was different from those in other provinces. Staff and patients took an active part in it and held an all-encompassing function. The staff expressed their solidarity with the families of doctors and patients who were martyred in the recent attacks on the Military Hospital, where more than 250 professional doctors, nurses and patients were killed and more than 500 wounded.
The function in other provinces including Kabul were held in the presence of guests from related ministries and foreigner supporters. The main points in the speech of OPAWC director Latifa Ahmady were:" I congratulate you on this important day and warmly hold the hands of all freedom loving women of the world and salute the brave women of Kurdistan for their recent active part and struggle for their rights. OPAWC's long term experience shows that if chances be given to women they have the capability to play their role in political, economical and social fields even better than men." Ahmady gave brief information about the present condition of women, mentioning the example of a 14 year old girl in Ghore province who was put on fire by her husband and her mother-in-law and died with a baby in her belly, and another two similar cases from Kabul and Takhar. "We are witness of violence against women in every corner of the country and we should know that the domestic violence is not a separate issue from the political system of the country. The women are still exchanged with animals, they are sexually abused, they are stoned to death, their body parts are heinously cut off or they are burned alive. More than 25% of the four million people addicted to drugs are women. The conditions of women in prisons are worse. But we women should not be without hope, we should not loose courage as we know where there is war there is struggle. We women must struggle fearlessly and be strong in our decision to enhance our knowledge and become self-confident so we can break the chains of barbarism and slavery and can make ourselves free of all these disasters."
The function ended with a theater performance which shows the real condition of an Afghan widow and her struggle to defeat all problems and violence and become independent with her children.