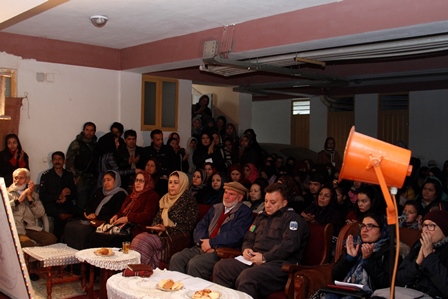 On Monday 23rd of January 2017, we had a celebration for our students who studied one year in our training centers. The aim of this gathering was to give Merit and Completion Certificates to 182 students who came to these centers accepting all risks and difficulties to finish their literacy and skill programs.
This day was a very special day for our students, who learn thousands of new things, thus making changes to their lives, turning from beggars to confident women. They celebrated this graduation with enthusiasm.
Most of the students who had learned literacy and handicrafts skills in OPAWC's Training Centers participated in the program, but more importantly the women prepared and handled the entire event themselves and provided a most interesting program, which is a great achievement for OPAWC.
The program covered different topics, including a speech by OPAWC executive director Latifa Ahmady, who gave brief but important information about the current situation of women in Afghanistan and the importance of learning for the women.
 One of our brave and hardworking donors, Silvia Riccheri who is always supporting OPAWC and Afghan women, gave a wonderful speech about the struggle of women in this difficult situation in Afghanistan, accepting all risks to try and stand on their own feet. She was happy to see OPAWC's achievements and praised OPAWC for its hard work in this critical situation.
OPAWC students performed two songs, Zanan Bar Pa (Women Arisen) and Toloyi Aftab (Arisen of the Sun). Several guest gave speeches, among them General Saber Aryan from the 5th department of the security police, Marukh Usifzai the head of social coordination of the Women's Ministry, and Mr Zafari the representative of the Literacy Department of the Ministry of Education. All speakers praised OPAWC and gave it high scores for its work. 
 The young band of Melodi  played wonderfully on sitar, and one of their friends sang a song for women on this special day. 
A great poem was performed by a woman who had a wonderful voice and impressed the audience with her spirited performance.
A woman and mother reported the story of her life, recalling the worst moments of her life before saying  that now OPAWC is changing her life, opening a new world for her. Her story was very painful, but she is feeling happy now because she can work and send her children to school and provide her daily expenses. She presented her story herself, and after her presentation OPAWC had a small gift for her.
At the end of the program we had a wonderful drama based on real life events, the painful story of one of the many thousand women of our country. It had a great message for the audience and our other students how to struggle against difficulties and stand by one's own feet in life.
After finishing the program we had lunch for our guests and tea with cake and cookies for our students. This was the best program in the history of OPAWC graduations and a great opportunity for our students to gain experience for the next program in which they are to participate.