March 8, the International Women's Day, is the day that reminds us of the struggle of the brave and fearless women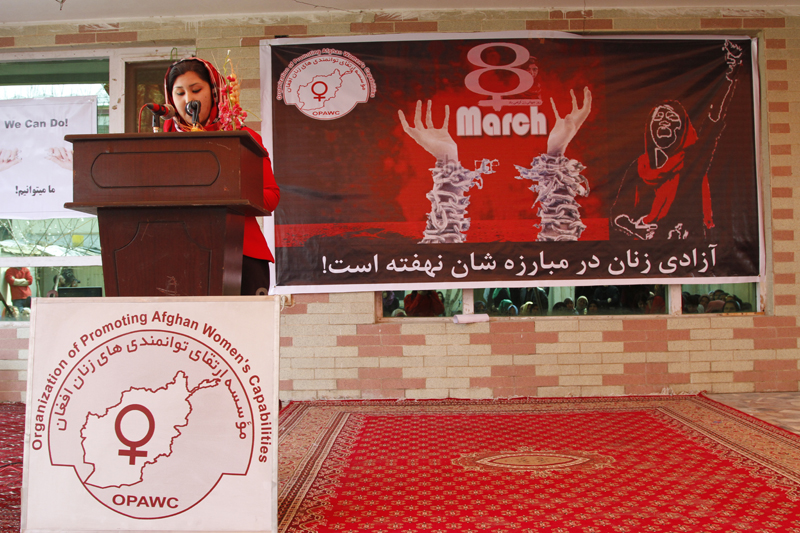 who fought for achieving equal rights for women and sacrificed their precious lives. its is the duty of all democratic and freedom loving women and men to get together and re-commit themselves to continue on their path and to receive inspiration from the blood of those heroic women of women's history.
OPAWC also celebrates this day every year in order to express the importance of this day, to make the women in OPAWC's centers aware of the struggle of women and sacrifices in the past, and at the same time to offer an opportunity for refreshment for the women.
In 2016 OPAWC commemorated International Women's Day at a time when, unfortunately, every day we witness murder,who have the support of powerful criminals. At the same time,we are witness to the fact that the murderers of Farkhunda and Rukhshana are still without any punishment.
The function was attended by a huge group of women from OPAWC and also other women's institution. There were songs and poems that reveal the pains of the women. The students took an active part with with interest and presented a theater play that showed the real condition of the country, in particular for women. Mr. Maroof Rayan, the Administrative Director of OPAWC, talked in detail about the history of International Women's Day and the struggle of the women around the world in different periods. Rayan  encouraged the women to take part and struggle for their rights themselves, he said that history has shown us that in no country women attained their rights through the bombs, cannons and guns of occupiers or outside forces. He emphasized that rights are taken not given.
The function ended with a moving song by the students of the center.