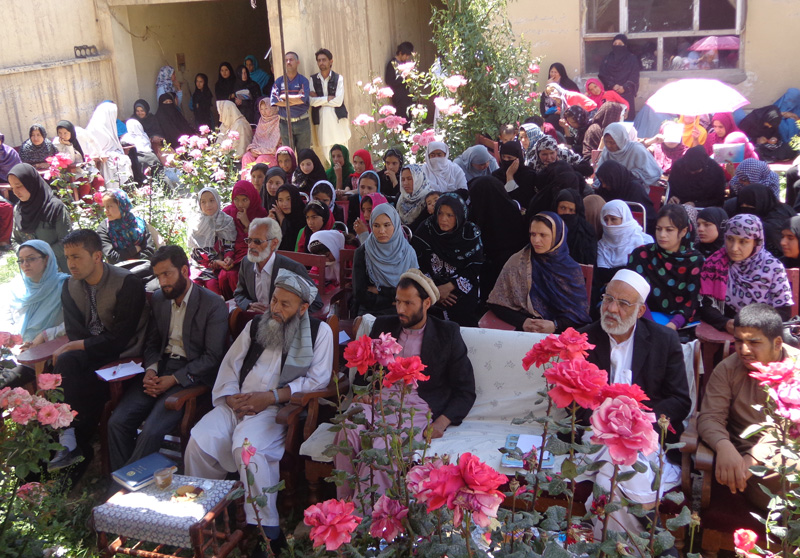 OPAWC is proud to graduate once again 150 women from its Vocational Training Center in Kabul. This achievement is another step to break down the chains of oppression among women of Afghanistan and empower them to stand for the right and economic self-sufficiency.
These women have been equipped with literacy eduction and Handicrafts making skills. Now they are able to solve their finacial problems by using their earned skills. They are not on the line of million illiterate women anymore.
The Function was held on May27,2013 in the Vocational Training Center of OPAWC in Kabul.
The function was inaugurated by speech of Latifa Ahmady  the director of OPAWC. Ahmady spoke about the present situation of women in Afghanistan and the importence of education for women in this critical situation. She also mentioned the law of Elimination of Violence Against Women, which is a hot issue in the discussions of parliament these days.
 High ranking members of the government participated and they did speeches and praised OPAWC for its wonderful work.
The Deputy of Literacy and Handicraft section of Ministry of Education attended the event who promised in his speech that they will present an award to OPAWC  for its good work and wonderful achievement in last 3 years.
Students were smiling and happy on receiving their certificates, this achievement give them a hope for a better future.
The student of the center presented  a marvelous drama which showed the real life of an Afghan women.