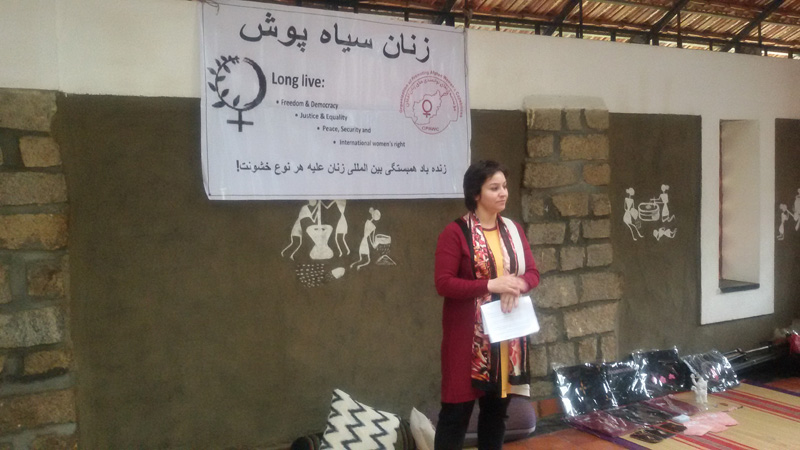 OPAWC representative Latifa Ahmady participated in an international meeting of women in Kolar, Bangalore,India.
The three day meeting was held during 17-19 November 2015 with the support of Women in Black- Vimochana. More than 150 women activists from different parts of the world participated in various workshops, including international members of Women in Black (WIB).
A one day workshop was allocated to Afghanistan. The OPAWC representative presented the true picture of the present situation in the country. She talked about the past 14 years of invasion of Afghanistan and its outcomes for people, in particular for women, and also about the current war between the Taliban, the ISIS and the government, She also mentioned the local immigration of the homeless people and their bad situation in this cold winter. She talked about insecurity and cruelty against Afghan women and injustice in the country. Ahmady  responded to the array of questions raised from the audience, who felt sorry for the poor people of Afghanistan.
Other workshops included the themes of globalization of war and the economy, culture and violence, virtual gender violence, the role of women in peace building, globalization of solidarity for justice and peace, hate crimes,and issues of nuclear power and  environmental  change.
Each workshop was very important and useful for the participants. The meeting was a good opportunity for the women around the world to hear about each others' condition and to exchange experiences with each other. It was characterized by a loving and friendly atmosphere for all.